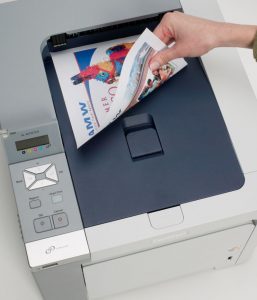 Copier Dealers buy from us. Town Business Center is a wholesale distributor of used copiers, business machines, office-grade copiers, printers, scanners, MFP's, wide format printers and fax machines. This means we buy and sell used copiers at wholesale values to copier dealers, leasing partners and businesses. We normally carry approximately 2,500 Multi-Function Printers MFP's and Used copiers in stock at all times.
We buy thousands of used copiers every month from companies throughout the contiguous United States of America and Canada and we pay cash up front along with taking care of all transportation costs.
Larger commercial accounts, copier dealers, government agencies, universities and school districts are some of the organizations that sell used copiers to us all the time. Sell your high quality brand-name used copiers, used copy machines or used Wide-Format & used Commercial Printers, such as used Toshiba, used Ricoh, used Canon, used Sharp, used Konica used Minolta, used Kyocera, used Panasonic to us, you can be sure we will recycle 100% of this resource and keep it out of the landfill.
Copier Dealers if you'd like to get a quote on used copiers, please give us a call …
Our skilled sales team is dedicated to buying used copiers that will provide our customers with a solution to their printing needs, quickly and afford-ably, and our on-site technicians evaluate and restore these large used office machines before the product leaves the warehouse.

Ricoh Copiers, Canon Copiers, Sharp Copiers, Kyocera Copiers, Xerox Copiers are some of the used copiers we purchase and pickup!
Whether you are interested in buying 1, or an container full of copiers or printers the staff at Town Business Center looks forward to assisting you every step of the way.
Contact us at your earliest convenience Copier Dealers we will be happy to help you with all your used copier needs, 570.602.1640.