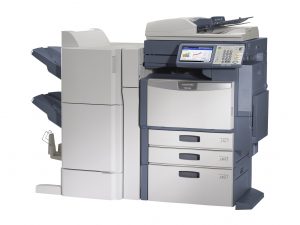 Toshiba Copiers and Used Toshiba Copiers are very popular both domestically and internationally.

Our Used Toshiba Copiers are in high demand by dealers and exporters alike.
Toshiba has always produced a strong line of black and white and color copiers. The only weakness of the Used Copiers is at the higher end production level which includes 100 ppm and over in the black and white area and 60 ppm and over in color production. copiers are embraced in the 25-75 ppm print segments and with annual "Top Pick Awards" by independent companies such as Buyers Laboratory Inc. and others. TBC Copiers has one of the largest selections of used Toshiba copiers.
---
Town Business Center – TBC Copiers is a wholesaler of used Toshiba copiers. We specialize in selling low-meter, well-kept recent model of used Toshiba copiers to domestic dealerships, while our older model copy machines go to our foreign friends on other continents.
Buy Used Copiers
If you are a Toshiba copier dealer looking for some used copiers to supplement your product line, check out our inventory online as we update it daily. Town Business Center – TBCCopiers.com gets in over 150 copier machines each day and so please stop by our website daily to see if we have what you're looking for. Another option is to have our sales staff keep a lookout for the new arrivals for you and when they arrive we will contact you. However, the most efficient option is to have daily updates of our inventory emailed to you daily, or go here and download our latest Toshiba copier inventory.
Sell Used Copiers
If you have some used Toshiba copiers in your warehouse that you want to sell for cash, then please send us an email with your list attached. Even though we purchase over 1500 copiers every month most of our copiers come from our leasing partners and then we sell to you.
Each Toshiba copier that arrives at Town Business Center – TBCCopiers.com is inspected by one of our onsite technicians. Our detailed inspections provide you with the condition of the Toshiba copier you will be purchasing including the condition, meter readings, accessories installed on you copier and more. All our used copiers are sold "as-is" with no warranty. We expect you to replace consumables and refurbish the copier prior to having it installed at the end user's location. Town Business Center – TBCCopiers.com markets our copier inventory with honesty, care and fastidiousness. We work hard with our current copier dealers and exporters to make sure that their used copier buying experience is unwavering and straightforward.
---
Town Business Center
767 Sans Souci Parkway
Hanover Township
Pennsylvania, 18706 USA
Phone: 570.602.1640
Fax: 570.602.1643
Email: sales@tbccopiers.com