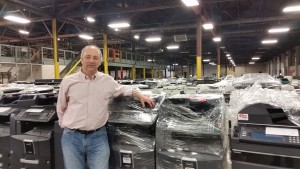 Are you looking International Used Copier Exporter to buy business machines but don't want to spend the overstated price of a new business machine? Call Town Business Center today and purchase a high quality used copier that will preform as good as a new copier, and save money too!
Town Business Center is an international exporting company focusing on the exclusive niche market of wholesaling used photocopiers and other used office machines. We purchase these machines and export them to various countries in South America, the Middle East, and Asia. We carries a huge assortment of quality used copy machines. Town Business Centers used copiers are hand selected from thousands of high quality low & high meter copiers and used wide format printers.
All our pre-owned used copiers are carefully tested and cleaned to ensure top performance.
Sell us your used copier.
We will pick up your used copier for FREE at your office, home, warehouse or anywhere in in the USA or Canada. We understand you are looking to sell your used office copier as soon as possible. We have fast, efficient and professional drivers that will meet your schedule. Town Business Center is one of the leaders in buying and selling used copier in the USA and Canada.
Ricoh Copiers, Canon Copiers, Sharp Copiers, Kyocera Copiers, Xerox Copiers are some of the used copiers we purchase and pickup!
Whether you are interested in buying 1, or an container full of copiers or printers the staff at Town Business Center looks forward to assisting you every step of the way.
Contact us at your earliest convenience and we will be happy to help you with all your used copier needs, 570.602.1640.
---
Town Business Center, International Used Copier Exporter …
767 Sans Souci Parkway
Hanover Township
Pennsylvania, 18706 USA
Phone: 570.602.1640
Fax: 570.602.1643
Email: sales@tbccopiers.com