Epson Large Format Printers. Create stunning professional-quality photo prints and business presentations with wide format printers.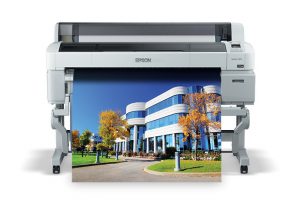 Precision. Performance. Brilliance.
Epson SureColor T7270 Single Roll Edition Printer
Never before has there been a large format color imaging system so capable of producing precise technical drawings, graphic posters, and retail signage at high speeds, that can also grow with your needs as your business thrives.
Introducing the New Epson SureColor® T-Series.
Developed using the latest advancements in performance imaging, like our exotic EPSON PrecisionCore™ TFP® print head, EPSON REALOID image processing hardware, and our breakthrough pigment ink technology – EPSON UltraChrome® XD – the all-new SureColor T-Series could be the way you'll print your next big idea.
---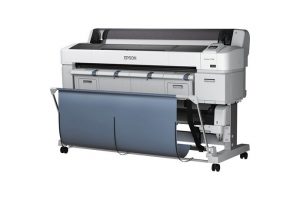 Epson Large Format Printers., Simple Front-Loading Ink Cartridges
5-Color configuration including Cyan, Yellow, Magenta, Matte Black, and Photo Black Available in three fill sizes – 110 ml, 350 ml, or 700 ml You can mix-and-match different sizes for each color
Epson UltraChrome® XD Inks
Specially formulated pigmented ink delivers brilliant color and crisp lines on virtually any paper type, as well as being truly archival and extremely smudge and water-resistant
The SureColor T-Series printers are designed to be used exclusively with these specially-formulated inks, and not with other brands of cartridges or inks.
Epson Large Format Printers, In-Printer eMail Notification Technology
If your SureColor T-Series printer is connected to an internet network, you can enable automatic eMail notifications to an active eMail or text eMail address.

Notifications include Job Finished, Error Status, Low Ink Remaining, and more.

No special software or computer required – the printer handles everything.
---

We need to buy machines to sell machines. Whether you have five or a thousand machines, don't hesitate to contact us.
A used copier is going to cost you 50% to 70% less than a comparable new model copier.We purchase only the highest quality brand-name used copiers, copy machines and Wide-Format & Commercial Printers, such as Toshiba, Ricoh, Canon, Sharp, Konica Minolta, Kyocera, Panasonic, and Used Copy Machines, Discount Copiers, Off-Lease Copiers, Digital Copiers, Office Copiers, Color Copiers, Black and White Copiers, Multifunction Printers, Wide-Format and Commercial Printers, Large Office Copy Machines.
One of our priority as a copier remarketer is to provide a fast turnaround on your used copiers, with our focus on maximizing ROI.
---
Used Epson Large Format Printers