Got An Old Copier to sell? Town Business is one of the companies that buy used copiers for cash. Sell Your Used Business Machines, Used Copiers, Used Office-grade Copiers, Used Printers, Used Scanners, Used Multi-functional Printer MFP, Used All-in-one Printer (AIO), Used Multi-function Device (MFD) or Used FAX Machines to Town Business Center for Cash.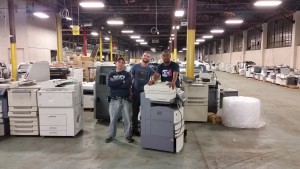 Please take this opportunity to list the machines you would be willing to sell to Town Business Center, let us give you an Used Copier Quote. That's correct, we need to buy used copy machines so we can sell copy machines. Whether you have one machine or a thousand used copy machines, don't hesitate to contact us for a Used Copier Quote.
Town Business Center pioneered the practice of remanufacturing, reusing and the recycling of copiers, business machines, office-grade copiers, printers, scanners, MFP's, wide format printers and fax machines. Town Business Center is one of many Companies That Buy Used Copiers, what sets us apart is we pay top dollar and we pickup you used copiers fast and with no hassle.
Notice that we don't stick to just one brand but carry a wide variety of used business machines from numerous manufacturers. At Town Business Center our professionals are a knowledgeable team of sales specialist, technicians and business consultants. We can help you choose the model and brand of used copier based on service records and the low cost of maintenance.

Ricoh Copiers, Canon Copiers, Sharp Copiers, Kyocera Copiers, Xerox Copiers are some of the used copiers we purchase and pickup!
Whether you are interested in buying 1, or an container full of copiers or printers the staff at Town Business Center looks forward to assisting you every step of the way.
Contact us at your earliest convenience and we will be happy to help you with all your used copier needs, 570.602.1640.
Got An Old Copier, we are one of the companies that buy used copiers.