Canon ImageRUNNER 4035 Copier Printer Scanner 35PPM For Sale and ready to ship.
Town Business Center has for sale Canon ImageRunner Advance 4035 with 2 trays, Print, Scan & Internal Finisher.
US $250.00 used
Machine has been tested by our in house techs to pass paper without any error codes popping up.
Whether you are interested in buying 1, or an container full of copiers or printers the staff at Town Business Center looks forward to assisting you every step of the way.
Contact us at your earliest convenience and we will be happy to help you with all your used copier needs, 570.602.1640.
---
Model Name
Type
Digital Multifunction Imaging System Functions: Standard: Copy, Print (UFR II), Scan, Send, Store
Optional: Print (PCL, Adobe® PostScript® 3), Fax (up to 4 Lines)Operation Panel: 8.4 SVGA Full-color, TFT ScreenScan Specifications
Network TWAIN Scan: Standard
Network Scan Utility: Color Network ScanGear
Image Server Memory, Canon ImageRUNNER 4035
Standard: 1.25GB RAM
Maximum: 1.75GB RAM Hard Disk Drive: Standard: 80GB
Maximum: 250GBMirroring Hard Disk Drive: Optional (80GB, 250GB); Method: RAID1Network Interface Connection: Standard: 10/100/1000Base-TX
Optional: Wireless LAN (IEEE 802.1x)Other Interface: Standard: USB 2.0 (Host)x2, USB 2.0 (Device)
Optional: Device Port [USB 2.0 (Host)x2], Copy Control Interface
Max Mailboxes Supported, Canon ImageRUNNER 4035
100 User Inboxes, 1 Memory RX Inbox, 50 Confidential Fax Inboxes Maximum Pages Stored: 6,000Advanced Box
Available Disk Space: Approximately 10GB (Standard HDD) / 113GB (250GB HDD)
Communication Protocol: SMB or WebDAV
Supported Client PC: Windows (Windows 2000/XP/7/Windows Vista)
Maximum Number of Concurrent Connections: SMB: 32 / WebDAV: 12 (Active Sessions)
Advanced Box Features: Disabling Advanced Box, Storage Filtering, Authentication for Advanced Box Log-in, Search Function, Sort Function, Printing a PDF File with a Password, imageWARE Secure Audit Manager Support Memory Media
Standard: USB Memory
Optional: SD, SDHC, CompactFlash®, Memory Stick, Microdrive
Letter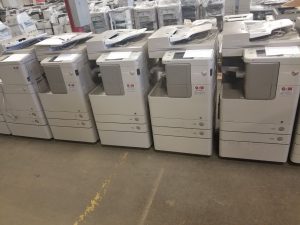 Legal
Ledger
First Copy Time
Multiple Copies
Magnification
From Platen Glass: 25% – 400% (1% increments)
From ADF: 25% – 200% (1% increments)
Preset Reductions
Preset Enlargements
Canon ImageRUNNER 4035, 121%, 129%, 200%, 400%Basic Copy Features Preset R/E Ratios by Area, Finishing, Two-sided, Density/Exposure Adjustment, Original Type Selection, Interrupt Mode, Sample Set, Setting Confirmation/ Cancel, Standard Keys, Reset, Guide Display, Job Duration Display, Reserved Copying Special Copy Features: Two-page Separation, Booklet, Job Build, N on 1, Add Cover, Sheet Insertion, Different-size Original, Transparency Cover Sheets, Page Numbering, Copy Set Numbering, Sharpness, Erase Frame, Watermark, Print Date, Shift, Gutter, Print & Check, Negative/Positive, Repeat Images, Merge Job Block, Job Done Notice, Mirror Image, Store in Mail Box, Superimpose Image, Favorite Setting, Previous Settings, Secure Watermark (Optional)
Standard Paper Capacity
(20 lb. Bond): Dual 550-sheet Cassettes 80-sheet Stack Bypass
Optional: Dual 550-sheet Cassettes 2,700-sheet Paper Deck
Maximum: 4,980 Sheets Maximum Output Capacity: (20 lb. Bond): 3,100 Sheets (with Staple Finisher or Booklet Finisher)
Standard: 250 Sheets (Inner Tray)
Output Sizes
Cassette
Cassette 1: Legal, Letter, Letter-R, Statement-R, Executive
Cassettes 2/3/4: 11 x 17, Legal, Letter, Letter-R, Statement-R, Executive, Custom Size [5-1/2 x 7-1/8 to 11-3/4 x 17 (140mm x 182mm to 297mm x 431mm)]
Bypass
11 x 17, Legal, Letter, Letter-R, Statement-R, Executive, Custom Size [3-7/8 x 5-7/8 to 11-3/4 x 17 (99mm x 148mm to 297mm x 431mm)]Other Option: Envelope Feeder Attachment*** (COM10 No. 10, Monarch, DL, ISO-C5, ISO-B5)
Acceptable Paper Weights
Cassette
16 lb. Bond to 34 lb. Bond
Bypass
14 lb. Bond to 80 lb. Cover
Duplexing
Paper Size: Standard Automatic Trayless Duplexing (up to 11 x 17)
Paper Weights: 14 lb. Bond to 28 lb. Bond
Warm Up Time
From Power On: 38 Seconds or Less
From Sleep Mode: 10 Seconds or Less
Exposure Control
Automatic or Manual (9 levels)
Power Requirements
120V AC 60Hz, 9.3A/NEMA 5-15PPower Consumption: Maximum: 1,500W; Sleep Mode: 1W
Dimension
30-1/4 x 22-1/4 x 27-5/8
(769mm x 565mm x 700mm)Installation Space (W x D)
(when the Multi-Purpose Tray is extended)
34-1/2 x 27-5/8
(876mm x 700mm)
Weight
Approximately 154 lb. (70kg)⟩Image Reader Unit
Scan Resolution Up to 600 x 600 dpi⟩⟩
Acceptable Originals: (Glass) Sheet, Book, 3-Dimensional Objects
Maximum Original Size: Up to 11 x 17Security Features
Standard: Department ID Management, Single Sign-On H, Access Management System (Device and Function Level Log-in), Secure Print, Trusted Platform Module, User Access Control of Advanced Box, Mail Box Password Protection, IPV6, Restricting Features (Restricting the Send Function, Restricting New Addresses on Address Book), SSL Encrypted Communication, SNMP v1/v3, MAC/IP Address Filtering, SMTP Authentication, POP Authentication before SMTP, HDD Format, IPSec, Adobe® LiveCycle® Rights Management ES2.5 Integration
Optional: Removable HDD, HDD Erase, HDD Encryption, HDD Mirroring, Encrypted Secure Print, Encrypted PDF, Document Scan Lock,Δ Secure Watermark, IEEE 2600.1 Common Criteria Certification †Environmental Information ENERGY STAR® Qualified Blue Angel RoHS Compliant WEEE Directive Ecomark.
Driver …