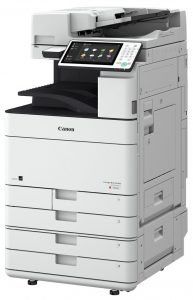 Used Canon Copiers for Sale at Town Business Center
We specialize in Used Canon Copiers for sale with low-meter, recent model used Canon copiers to domestic dealerships. The Canon fleet of copiers has a full line of both color and black and white copiers. However, their flagship status revolves around the faster 55-page per minute black and white copiers as well as their production copy line of machines.
Sell Your Copiers
If you have some Used Canon Copiers for sale or Canon copy machines in your office that you wish to sell then please contact us, we will give you cash for your used Canon copiers. Even though we purchase over 1000 copiers every month the majority of our used Canon copiers come from our leasing partners for resale.
Notice that we don't stick to just one brand but carry a wide variety of used business machines from numerous manufacturers. At Town Business Center our professionals are a knowledgeable team of sales specialist, technicians and business consultants. We can help you choose the model and brand of used copier based on service records and the low cost of maintenance.

Ricoh Copiers, Canon Copiers, Sharp Copiers, Kyocera Copiers, Xerox Copiers Used Canon Copiers for sale, are some of the used copiers we purchase and pickup!
Whether you are interested in buying 1, or an container full of copiers or printers the staff at Town Business Center looks forward to assisting you every step of the way.
Contact us at your earliest convenience and we will be happy to help you with all your used copier needs, 570.602.1640.
Used Canon Copiers for sale, YES we have them in stock. Have a Used Business Machines you need to sell, call us 570.602.1640 today.
Used Canon Copiers for sale at TBCCopiers.com