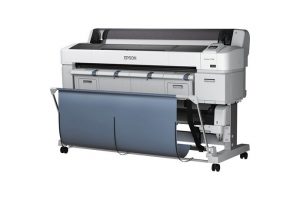 Who Sells Used Wide Format Printers, We Do!
Go big and bold with versatile large-format printing solutions. From graphic arts to the everyday office, wide-format printers help you deliver the quality and precision you need to stand out.
Large format printers are generally accepted to be any computer-controlled printing machines (printers) that support a maximum print roll width of between 18″ and 100″. Printers with capacities over 100″ wide are considered super wide or grand format. Large format printers are used to print banners, posters, trade show graphics, wallpaper, murals, back-lit film (duratrans), vehicle image wraps, electronic circuit schematics, architectural drawings, construction plans, backdrops for theatrical and media sets, and any other large format artwork or signage.
Large format printers usually employ some variant of inkjet or toner based technology to produce the printed image; and are more economical than other print methods such as screen printing for most short-run (low quantity) print projects, depending on print size, run length (quantity of prints per single original), and the type of substrate or print medium. Large format printers are usually designed for printing onto a roll of print media that feeds incrementally during the print process, rather than onto individual sheets.

Ricoh Copiers, Canon Copiers, Sharp Copiers, Kyocera Copiers, Xerox Copiers are some of the used wide or large format printers we purchase and pickup!
Whether you are interested in buying 1, or an container full of large format printers the staff at Town Business Center looks forward to assisting you every step of the way.
Contact us at your earliest convenience and we will be happy to help you with all your used copier needs, 570.602.1640.
Large Format Printers, YES we have them in stock. Have a Wide Format Printers you need to sell, call us 570.602.1640.
---