Shop Used Gestetner Photocopiers at Town Business Center
Get the best for your bucks when you buy a used Gestetner photocopier for printing, faxing, scanning, and more. Get a 'like new' pre-owned copiers ranging from $200 to $25,000 and save up to 35% to 55% on high quality copier or printer. Choose from over 2,000 copiers with a wide array of cutting edge features to help your office be efficient as you complete projects faster than ever before.
Used Gestetner Photocopiers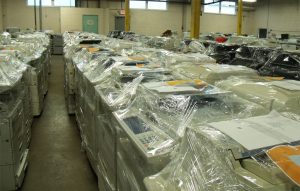 If you are a copier dealer looking for some used Gestetner copy machines to supplement your product line, check out our inventory online as we update it daily. Town Business Center – TBCCopiers.com gets in over 150 copier machines each day and so please stop by our website daily to see if we have what you're looking for. Another option is to have our sales staff keep a lookout for the new arrivals for you and when they arrive we will contact you. However, the most efficient option is to have daily updates of our inventory emailed to you daily, or go here and download our latest used copier inventory.
Sell Your Used Gestetner Photocopiers
If you have some used Gestetner Photocopiers or Ricoh Copiers in your warehouse that you want to sell for cash, then please send us an email with your list attached. Even though we purchase over 1,000 copiers every month most of our copiers come from our leasing partners and then we sell to you.

Used Gestetner Photocopiers, Used Toshiba Copiers For Sale, Used Xerox Copiers For Sale, Used Sharp Copiers For Sale, Used Canon Copiers For Sale, Used Epson Copiers For Sale, Used HP Copiers For Sale …
Used Gestetner Photocopiers for sale