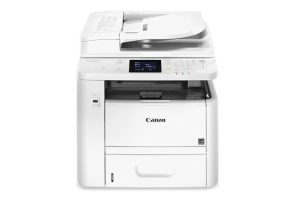 A all in one copier, MFP (multi-function product/printer/peripheral), multi-functional, all-in-one (AIO), or multi-function device (MFD), is an office machine which incorporates the functionality of multiple devices in one, so as to have a smaller footprint in a home or small business setting (the SOHO market segment), or to provide centralized document management/distribution/production in a large-office setting. A typical MFP may act as a combination of some or all of the following devices: Email, Fax, Photocopier, Printer, Scanner.
All-in-one devices may have features oriented to home and personal use that are not found in larger devices. These functions include smart card readers, direct connection to digital cameras (e.g. PictBridge technology) and other similar uses.
The print engine of most All-in-one devices is based either on a home desktop inkjet printer, or on a home desktop laser printer. They may be black-and-white or color capable. Laser models provide a better result for text while inkjet gives a more convincing result for images and they are a cheaper multi-functional.

We Buy Copiers every month from companies throughout the contiguous United States of America and we pay cash up front along with taking care of all transportation costs.
When you sell your used copier to us, we prefer to work in groups of 5, 50 or 500 lots of copiers. This is primarily due to the high transportation costs involved in transporting a single used copiers. Larger commercial accounts, dealers, government agencies, universities and school districts are some of the organizations that sell used copiers to us all the time. Sell your high quality brand-name used copiers, used copy machines or used Wide-Format & used Commercial Printers, such as used Toshiba, used Ricoh, used Canon, used Sharp, used Konica used Minolta, used Kyocera, used Panasonic to us, you can be sure we will recycle 100% of this resource and keep it out of the landfill.
Here are some of the top brands at Town Business Center, Canon, Ricoh, Konica Minolta, Xerox, Toshiba, Sharp, Kyocera, HP, Lexmark, Samsung, Dell, Brother.
We Buy Copiers …
Give us a call.
570.602.1640 Phone
570.602.1643 Fax
All-In-One Used Printers For Sale …